Moveable Kitchen Tap Head
The Moveable Kitchen Tap Head is a must-have for any kitchen sink!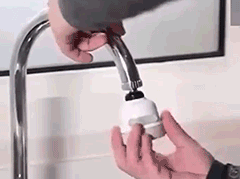 Clean your sink and your dishes effortlessly with this 360 degree rotating tap nozzle! Features 3 different spray adjustable modes for every type of cleaning!
Features:
3 Different Spray Modes: Jet, Jet + Shower and Shower
Very easy to install and fits most tap heads
Reduces energy costs and water usage by up to 70%.
Extremely durable and high quality engineering
360-Degree Twist and easy spray mode control
Installation:
Installation is a breeze! Comes with a white rubber attachment to ensure a tight fit without any leakage.
Fully compatible with all round tap heads. Does not fit square tap heads.
Also fits these taps heads:
Package Includes: 
1 x Moveable Kitchen Tap Head
You're gonna love these too